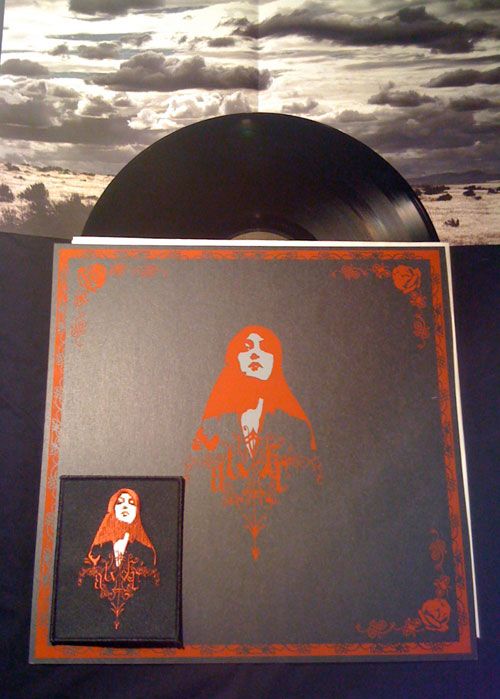 The Wolvserpent crew has always been a source of intrigue. As you all know by now, I'm a big fan of the duo of Blake Green and Brittany McConnell's dark, "backwoods"-like doom, with their latest offering
Blood Seed
working its way onto my Top 10 of 2010. Yet, with my fandom set in stone, I had unknowingly gone almost two years without knowing of guitarist and vocalist Green's side project, the oddly spelled Aelter. Whereas Wolvserpent receives the attention of media outlet Roadburn and labels like 20 Buck Spin or Crucial Blast, who recently re-released
Blood Seed
as a double album with the previously sold-out
Gathering Strengths
, Aelter lives in the shadows, relying on limited, gorgeously packaged releases for means of its meager survival. On his own, Green sheds his normally devastatingly heavy style for something more quiet and perplexing; as unique and obscure as it intends to be.
With a subtitle like
Follow You Beloved
, one would expect something a bit more..."romantic," and, in a way, you'd be completely right. Both
Beloved
and
Follow You
carry a distinct, almost loving characteristic that might not come across as clearly in either Wolvserpent or Mezektet (Wolvserpent's collaboration with (a) Story of Rats), while still retaining Green's unique sense of harmony. Immediate comparisons can be drawn to Green's layers of guitar on
Blood Seed
's opening track "Wolv," though, rather than unsettling and dark, these two track feature something a bit more harmonious and grandiose in comparison.
Looking down, one will notice the "doom metal" tag and, while that is true, what Aelter does doesn't
necessarily
fly beneath the doom metal banner. With the help of our friends in the ambient and drone genres, and maybe even a little post-rock here and there, Aelter's much more reserved take on the genre, complete with relaxing organs and wavering, ethereal vocals, culminates in a pensive, psychedelic, relaxing listen.
Limited to 500 hand-numbered copies, this 12" record is gorgeously packaged in a screen-printed sleeve with a one-sided poster. Avoid the middleman and order
Aelter II
, along with other releases by Aelter, Wolvserpent and Mezektet, directly from the artist
here
at Wolvserpent Records. I've got my eye on the "die hard edition" of
Blood Seed
on white vinyl.
-Jon