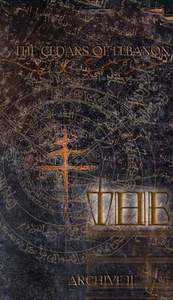 Once ever few months I enter a sort of a rut. I like music, but sometimes I lack the real passion to write about it. With hundreds of albums in my "To-Do" bin, everything starts to run together into a sort of harmonic blur out of which I can't really get anything. In these darkest moments, some of the most beautiful, unique, and meaningful pieces of music drag me from my lack of motivation, taking my mind to places of which I could never fathom before. Recently my ears have been craving the haunting, beautiful music of Chicago's Cedars of Lebanon, a newer project spearheaded by now-defunct experimental doom metal band Minsk's drummer.
Cedars of Lebanon's
Archive II
is absolutely immense, but not in the way that Minsk was. A mournful excursion into the sounds of bazaars, Sufi burial rites, and the desert at night, Cedars of Lebanon's gorgeous, meditative ambiance is unlike anything else you've heard this year. If Miles Davis's
Kind of Blue
is the soundtrack to Chicago at night, then
Archive II
takes the listener through the darkened streets of Beirut just before the sunrise. All the clubs have closed and the streets are virtually empty, leaving a sort of transcendental, spiritual atmosphere, unveiling the hidden faces of this ancient city. Extraordinarily picturesque visions of the very cedar groves of lore in which the great Gilgamesh once tread envelop the listener, taking them back to the time of the Phoenecians. Elements of stark, Burial-esque electronica emerge from time to time, snapping back to present day, but overall
Archive II
is centered around the extensive use of hand percussion, traditional string instruments, and a lone, grief-stricken female voice.
The beautiful ambiance of Cedars of Lebanon's
Archive II
, while rooted in the traditional sounds of the Middle East, show a mature synthesis of ancient and modern, highlighting the region's difficulty in maintaining its identity as the "cradle of civilization" while keeping up with the modern world.
Archive II
has proven itself to be one of the most engrossing, beautiful, unique releases of 2011 and will make wonderful reading music for years to come. Stream one of the six songs
here
and be sure to order a copy (there are only 125!) from
Land of Decay
.
-Jon