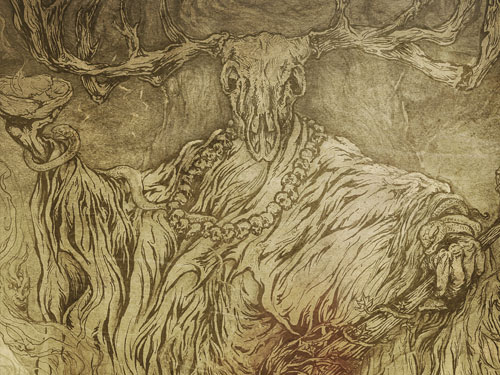 We have a saying in the business world, "Presentation is everything," and "Ross Bay ritual dark ambient" project Funerary Call's
Fragments from the Aether
is no exception to said rule. The eerie drawing of
Cernunnos
which graces the cover initially caught my eye and set part of the tone for the music within. The three offerings start with pulsing drums and a susurrus, inviting the listener to slow their breathing to match the flow of the enveloping sound.
This album brings new ideas of ritual ambient to the table and executes them quite well with grating undertones and breathy vocals. Drifting guitars introduce harsh noise while maintaining the mournfulness through overlaid violin-like wailing; the ebb and flow of Libation drags the emotions with it into a frenzied high before lying the listener down in an exhausted, unexpected, post-coital heap. The second track, "Fragments," is more subdued and the forefront is dominated by the tensed violin's aching for some form of release... it is eventually joined by a drone background which still denies the needed release but morphs the violin's wantonness into a more sensual tension, as if the climax is near yet the buildup needs to play out fully before both parties can enjoy its fruits. The remainder of the album continues both the coital and ritual themes, alternatively twisting and rolling as it uses us to explore the curves of a beautiful woman in an intimate setting. All too soon, the drone gradually ebbs into a strange percussive scraping leaving an edgy unfulfilled desire.
Funerary Call successfully pull off ritual ambient with sensual undertones, and
Fragments from the Aether
is like returning to a favorite lover who brings both of your consciousness to new heights.
Fragments from the Aether
is available as streaming audio from the Crucial Blast
Bandcamp
and in a handsomely-designed
digipack
.
-A.