Any self-respecting noise fan knows of Chicago's BloodLust! record label. Run by Bloodyminded/Anatomy of Habit/The Fortieth Day/A Vague Disquiet/Intrinsic Action frontman (and the sharpest dressed man in the experimental scene) Mark Solotroff, BloodLust! has been a consistent source in the finest in sex-and-crimes-driven, violent power electronics, industrial, noise, and the like. Having released material by Prurient, Envenomist, and, of course, Bloodyminded, one would never suspect BloodLust! to become a haven to metal acts, aside from a 1996 release of Dead World's
Thanatos Descends
, and before the turn of the new decade, one would have assumed correctly.
The year 2010 marked a new milestone in BloodLust! history: the release of its first metal album since 1996, namely Locrian's
Territories
. Though the label had put forth other Locrian releases (
Plague Journal
,
Rhetoric of Surfaces
, and
Drenched Lands
), the undeniable black metal elements of
Territories
placed it in its own category in the BloodLust! catalog. Aside from a Plague Bringer single, featuring former Revolting Cocks member Chris Connelly, BloodLust! kept from releasing another metallic album until late 2011, manifesting itself as experimental doom metal 5 piece Rabid Rabbit's massive
Czarny Sen
, followed shortly thereafter by progressive metal band Arriver's debut full-length
Tsushima
.
Rabid Rabbit's "Czarny Sen"
Czarny Sen
is a bit of a head-scratcher, but in a good way. On one end of the spectrum, this is absolutely, devastatingly heavy. Adding an extra bassist to the standard rock band lineup, Rabid Rabbit relies on twisting, simultaneous basslines to create a dense atmosphere, rife with foreboding. With two basses, handled by Arman Mabry and vocalist Andrea Jablonski, guitarist and vocalist Dan Sullivan takes a much freer, psychedelic approach to the guitar, not always taking the "heavy" route, leading to intriguing, swirling textures in conjunction with the twin-bass pummel and Jablonski's dreamy voice. Album closer "Raven Man" is an absolute juggernaut, with riffs forged from mountains and an especially intense, layered outtro.
At the other end...
Czarny Sen
is a challenging piece of music. Though rooted in sludgy, doomy goodness, Rabid Rabbit aren't afraid to wear their love for avant-garde music on their sleeves. Album centerpiece (and longest tune) "
Suicide Song
," which was originally recorded as part of the Experimental Sound Studios Chicago Audio Grant, is a highly improvised track, basing itself in bizarre, non-instrument sounds and alien atmospheres. With assistance from friend and labelhead Mark Solotroff as well as free-jazz masters Bruce Lamont, Dave Rempis, and Michael Zerang, it should be inferred the bizarre nature of "Suicide Song" is only the tip of the iceberg, and I
demand
that you take the plunge on this one. One wouldn't expect it, but the modern "city of sludge" has its roots in the avant-garde (read George E. Lewis's
A Power Stronger Than Itself
for more information), so this Sleep-meets-Ornette Coleman hybrid is by far the strongest example of Chicago's musical heritage over the past fifty years. Surprising, huh? Rumor has it the special edition of this LP, which is wrapped in wax-sealed, screen-printed black tar paper is still available, and it's worth every
penny
.
Czarny Sen
might not be for the faint of heart, but if you're feeling especially adventurous I'd recommend giving this one a spin - I've almost worn through my copy!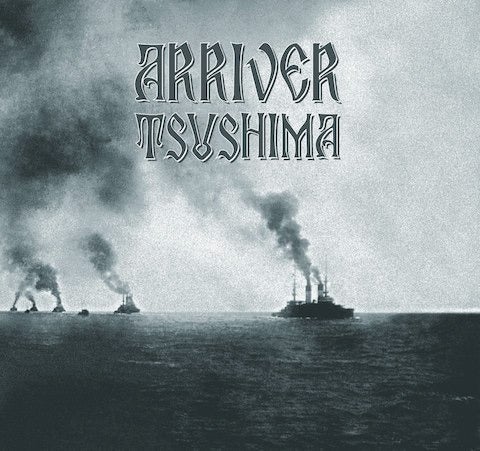 Arriver is just about the exact opposite of their sister band Rabid Rabbit (both bands share guitarist Dan Sullivan). Where Rabid Rabbit is intelligent and thorough, Arriver chooses to lay back, crack a few beers, and have fun. That's right,
Tsushima
is a metal album, and Arriver is an unabashedly metal band. I was definitely taken aback at how much of a rocking good time an incredibly researched concept album about battle at sea during the first World War could be, and yet Arriver's incredible mesh of the entire extreme metal spectrum leaves me with a sore neck and a doozy of a smile. Unlike Rabid Rabbit, it doesn't take multiple full-album listens for
Tsushima
to fully sink in, rather, its almost "poppy," catchy sound, however progressive and genre-jumpy, is immediately graspable and wholly entertaining. Don't expect some sort of hyper-intelligent, genre-redefining affair with Arriver's debut, but, goddammit, if this isn't one of the most fun listens I've had in a long time.
Tsushima
is definitely the most surprising release on BloodLust!'s roster, but also Solotroff's most courageous choice for BloodLust!'s
170th release
. Fans of the Czech Republic's newly reformed !T.O.O.H.!'s dismissal of genre expectation should take note.
BloodLust!'s transformation from the secluded noise mecca of old to a haven for Chicago's underground experimental scene, be it of the noise or metal persuasion, has definitely been a successful one, and with little sign of pulling back. Expect an LP from drum machine-worshipping experimental/industrial metal freaks
Sun Splitter
this summer.
Chicago pride!
-Jon