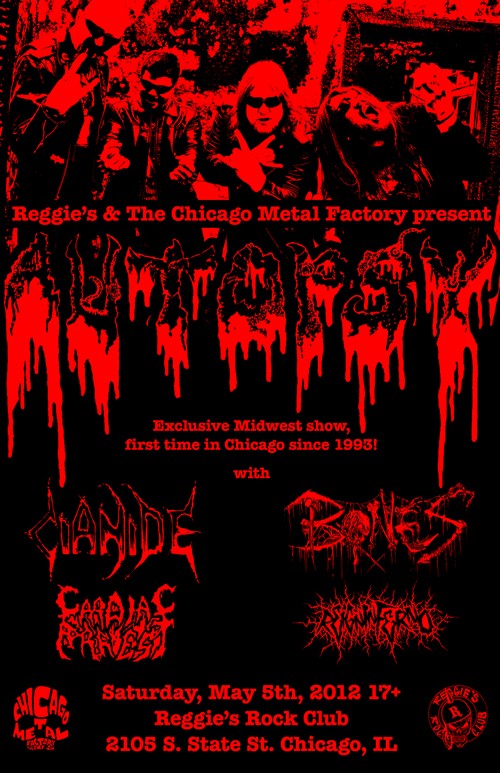 It's been far too long since I'd been to a death metal show. Come to think of it, the last death metal concert I consciously saw, aside from Opeth, who don't count, was Necrophagist/Cannibal Corpse/Dying Fetus way back in 2006. Man, it really had been a while, but, luckily, my senses kicked in when I saw how unbelievably incredible this show's live lineup was. I mean, Chicago heavyweights Bones and Cardiac Arrest already make a fun show, but when you add old school death/doom masters Cianide, things start to get interesting...then comes Autopsy. Honestly, Eric Cutler could burp into a microphone for an hour and I'm sure the venue would bear the same amount of damage it would receive if Autopsy had actually played (which they did. Oh, they did.). I believe Cardiac Arrest frontman Adam Scott put it perfectly when he said, "If you told me fifteen years ago that my band would open for Autopsy, I'd call you a fucking liar." It was almost too good to be true, I mean, it's a rather rare occurrence when such a
solid
death metal lineup comes to Chicago. Something always has to fuck it up. Always. I mean, this is Chicago. I love you, Chicago, but, goddammit, our history with shows hasn't been the greatest.
Set reviews and videos after the jump.
REIGN INFERNO
Oh wait, someone
did
fuck it up! Reign Inferno is everything I hate about modern death metal lumped into a compact, 4-piece package. Canned "technical" riffs, horrid guitar tone,
breakdowns
, and awful vocals make this band sound more like that one guy who blows out his back trying to lift too much weight at the gym. There were a couple moments in their set where they took a much more "old school" approach, which was enjoyable, but, I mean, the band who wrote all those riffs happened to be headlining. Ditch the pseudomuscular guy with the chinstrap beard and let your guitarist take over vocal duties, he's
much
better. Oh yeah, and no more "jump da fuck up" riffs; I thought the Midwest was past this whole nu-metal thing.
CARDIAC ARREST
Alright, this is more like it. Cardiac Arrest have been at it for almost 15 years, but they've got the know-how of the old masters. Commemorating the release of their new album,
Vortex of Violence
, Chicago's new death metal legends ripped through some "heart stopping" cuts found throughout their entire discography. It's pounding, kind of thrashy, and a whole lot of fun. Lots of stage movement, microphone swapping, and some forgotten '80s metal cliche stage antics definitely sold me with Cardiac Arrest's live show. Oh, and a brand-spanking-new album has no effect on these guys, who pulled out two
brand new
tunes which aren't even on
Vortex
. Nice job, guys.
BONES
With Jon Necromancer on bass and Carcass Chris playing the guitar, Bones is probably the closest I'll ever get to seeing Usurper live. Taking cues from Motorhead, Discharge, and Master alike, Bones's energetic, punky take on death metal takes us back to the mid-80s, when Paul Speckmann's Death Strike ruled supreme. Lots of d-beats. Lots and lots of d-beats.
CIANIDE
Having never seen them before, I was definitely excited to witness Chicago's old school death/doom cavemen Cianide in action. Aside from some microphone problems, these guys were unbelievably heavy. It's obvious these guys have been at it as long as they have (almost twenty-five years!), but the thick, demolishing riffage remains the same. Vocalist/bassist Mike Perun, who has recently shed his signature beard, growls like...well...like some sort of pre-human primate, shelling out some of the world's thickest death metal riffs with fellow bandmates Scott Carroll and Andy Kuizin. Like Cardiac Arrest, Cianide weren't afraid to reach far back into their catalog, ripping out some quality jams from 1992's
The Dying Truth
. Seeing as this was my first "old school death metal" live experience (Cannibal Corpse doesn't count - I saw them after they released
Kill
.), I was rather impressed. Of course, nothing could prepare me for what came next.
AUTOPSY
No film, I was too excited.
Fucking Autopsy. Holy hell, I wasn't ready for this. I mean, 1) this is
Autopsy
and 2) they haven't been to Chicago since I was a toddler, so just about everyone, including myself, was absolutely ravenous. Intensity was the name of the game here, because, I mean, it's death metal. The guys might not have moved as much as Cardiac Arrest, but they pulled off their classic (and new) material flawlessly. I personally think
Severed Survival
and
Mental Funeral
are the absolute pinnacle of old school death metal (come at me, Death fans), so to see these tunes performed
better
than the recordings was an absolute treat. Chris "Death Metal Phil Collins" Reifert, who had the cojones to wear one of his own band's shirts, had a lot more oomph to his voice than on the recordings. Rather than the wet roar we have grown to love, Reifert in person sounds absolutely vile in the best way. Some set highlights? I think just about everyone nearly broke their necks during the second verse of "In the Grip of Winter." Newer tunes "Always About To Die" and "Maggot Holes" featured one of the most menacing mosh pits I'd seen in a while, though, granted, I don't see too many anymore. I'd never seen so many injuries at a show before. Oh, yeah, and closer "Charred Remains," a personal favorite, was absolutely ripping. Twenty-five years later and Autopsy's still got it.
Oh yeah, and I was able to pick up Sixx's
Sister Devil
. A successful, excessively brutal night. I hope it doesn't take nineteen years for Autopsy to return to the Windy City.
-Jon